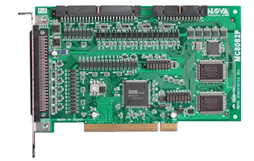 zoom
MC8082P
MC8082P
PCI Bus 8-Axis Motion Control Board
For more information, visit the manufacturer web site.
Go to manufacturer site
Item Details
MC8082P is a PCI-bus compliant PC/AT compatible circuit board equipped with 2pcs of 4-axes motion control IC "MCX304". It can independently control 8-axes of either stepper motor or pulse type servo motor for position and speed controls.
PCI Half-Size
MC8082P can control each 8-axes motor independently and simultaneously although it is PCI Half-Size. The necessary signals, drive pulse output and limit sense input are assigned to the rear connector. Each signal, encoder input, general output or drive operation is assigned to the surface connector on the board.
Automatic home search
MCX304 has automatic home search function for all axis It saves the load of user program drastically.
Smooth driving for S-curve acceleration/deceleration
In addition to linear acceleration/deceleration drive, its can operate parabola S-curve acceleration/deceleration drive. S-curve drive can keep its smoothness even though the number of output pulse is small.