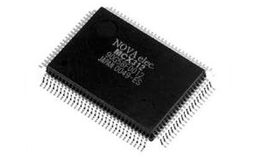 zoom
MCX312
MCX312
2-axes motor control IC with linear interpolation
For more information, visit the manufacturer web site.
Go to manufacturer site
Item Details
MCX312 is an intelligent high performance motion control IC designed for stepper motor or pulse type servo drivers with position, velocity and interpolation controls. Features include s-curve/trapezoidal acceleration/deceleration, target position and velocity changes on the fly, linear interpolation including with multichip axes, circular/bit pattern interpolations and built-in integral type filter. Every function of the MCX312 is controlled by specific registers, which are command registers, data registers, status registers and mode registers.
Independent control of 2-axes
Supports linear interpolation, and multichip axes linear interpolation that perform continuous linear interpolation as well as single chip
Supports CW/CCW circular and bit pattern interpolations
Continuous interpolation to execute a series of interpolation processes, linear interpolation - circular interpolation - linear interpolation - …
S-curve, trapezoidal or velocity contouring
On the fly target position and velocity changes
Maximum speed: 4MPPS, available for constant speed, linear/s-curve acceleration/deceleration driving
Supports automatic deceleration including for non-symmetrical trapezoidal acceleration/deceleration driving
Built-in integral type filter, selectable to enable or pass a signal through, and time constant from 8 types
Selectable independent 2 pulse or 1 pulse/direction system
32-bit compare registers for each axis, can be used as software limit
Read out of drive status by registers
Selectable encoder input mode, quadrature or up/down pulse input
Emergency stop input for all axes
Connectable CMOS, TTL
100-pin QFP package 5V operation