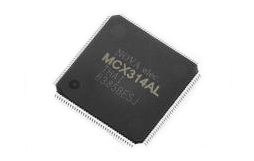 zoom
MCX314AL
MCX314AL
4-axes motor control IC with circular/linear interpolation
For more information, visit the manufacturer web site.
Go to manufacturer site
Item Details
MCX314AL offers low operation voltage +3.3V/DC for small power consumption. Its functions are exactly same as MCX314As. So it's a cost-effective high performance motion control IC designed for stepper motoror pulse type servo drivers with position, velocity and interpolation controls. This intelligent single chip offers s-curve/trapezoidal acceleration/deceleration, target position and velocity changes on the fly, built-in 32bit linear/circular interpolation control, automatic home search and built-in integral type filter. Every function of the MCX314AL is controlled by specific registers, which are command registers, data registers, status registers and mode registers.
Note: The Pin Assignments of MCX314AL are different from those of MCX314As.
Independent control of 4-axes
Supports linear and bit pattern interpolation for any 2 or 3 axes
Supports CW/CCW circular interpolation for any 2 axes
Continuous interpolation to execute a series of interpolation processes, linear interpolation - circular interpolation - linear interpolation - …
S-curve, trapezoidal or velocity contouring
Triangle form prevension of linear/s-curve acceleration fixed pulse driving
On the fly target position and velocity changes
Maximum speed: 4MPPS, available for constant speed, linear/s-curve acceleration/deceleration driving
Supports automatic deceleration including for non-symmetrical trapezoidal acceleration/deceleration driving
Supports automatic home search that high-speed near home search - low-speed home search - encoder Z-phase search - offset drive
Supports synchronous action, which performs any action from the factor of own axis to other axes listmark Built-in integral type filter, selectable to enable or pass a signal through, and time constant from 8 types
Selectable independent 2 pulse or 1 pulse/direction system
32-bit compare registers for each axis, can be used as software limit
Read out of drive status by registers
Selectable encoder input mode, quadrature or up/down pulse input
Emergency stop input for all axes
Connectable CMOS, TTL
144-pin LQFP package 3.3V operation